About the Museum
The museum in Szécsény is located in the historical buildings of the former Forgách-castle. After finishing the reconstruction of the castle between 1969–1973, parts of the collection (e.g. the historical, archaeological, numismatic and minerals) were moved to the newly founded museum. The building was opened for visitors in spring 1975 and the first exhibitions in November the same year.
The first exhibitions in the regional museum gave a taste of the bright scale of the historical and archaeological collection. The permanent archaeological exhibition showed finds of different periods (e.g. Palaeolithic, Neolithic, Bronze Age, Iron Age, Migration period, Middle Ages) representing the history of Nógrád county. Under the direction of the Museum of Agriculture, a Hunting and Wild Care exhibition was opened in 1975. A separate memorial exhibition showed the life and work of Ferenc Kubinyi.
The local museum took on 1 February 1979 the name of Ferenc Kubinyi, to show its respect for the renowned scientist and politician. The feast ceremony took place in April the same year.
After further reconstructions on the castle area were finished, new exhibitions were opened in 1984 in two separate buildings. In the Eastern bastille an exhibition of the history of Szécsény was opened, and in the Western bastille a lapidary.
The museum - beside of taking care of the collections - gives place to cultural events such as concerts, temporary exhibitions, conferences.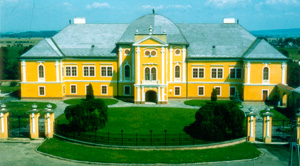 Tamás Szécsényi or his sons of the Kacsics kin started the construction of the early fortified castle of Szécsény from the second third of the fourteenth century. It is a so-called municipal fortress — a citadel that develops as an integral part within the so-called market town. The first record of the fortress dated 1456 calls it castle, later it appears as castle or as fortified castle. According to the contemporary representations, by the seventeenth century it is a quadrangle building complex of great size with quadrangle and round bastions and a storied palace. The Luxembourgian king Sigismund probably visited palace, but János Hunyadi and his son, the later Hungarian king Matthias, were its guest for sure. The northwest projection of the castle of today — up to the first floor — is identical with the bastion seen on the representations.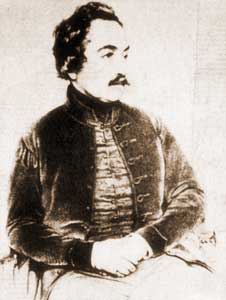 (b. Videfalva 1796 – d. Budapest 1874)
The Kubinyis was a noble family in the former Nógrád County. The person giving his name to the museum was Ferenc Kubinyi, an educated lawyer. From 1823 he took part in the so-called Reform Parliament. In the 1840's he took an active role in the political battles of Nógrád on the side of the liberal opposition. During the Hungarian War of Independence in 1848-49 was he a supporter of the Battyhányi-government later that of Lajos Kossuth.